Coca-Cola Bottling Albania presents new packaging, with 100% recycled plastic to an increasing circular economy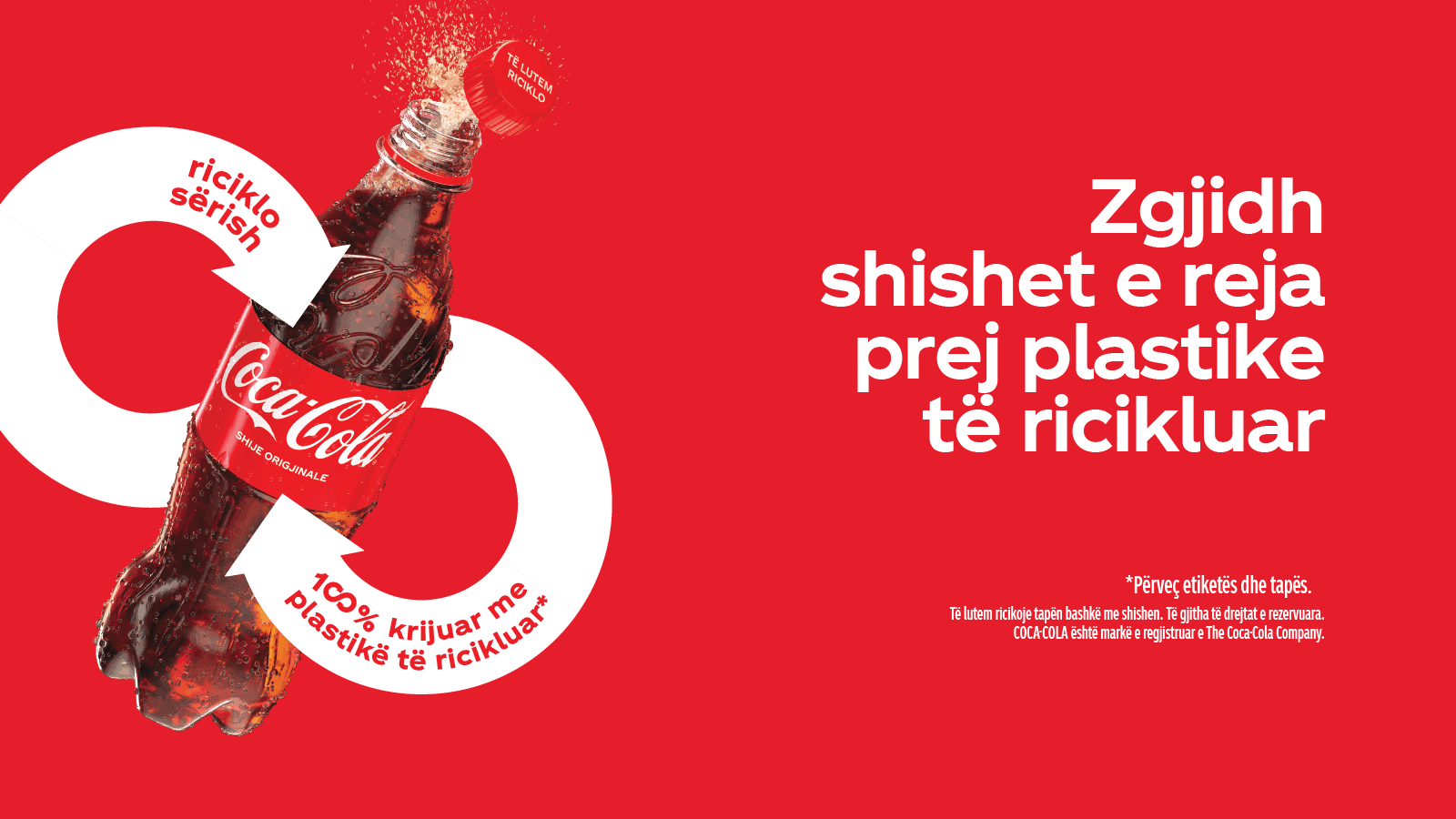 Coca-Cola Bottling Shqipëria (CCBS), offers since few weeks now in the Albanian market, its first bottles made of 100% recycled plastic (rPET). The new 100% rPET bottles will be used for Coca-Cola products, as well as for all other brands in the company's portfolio for 0.45L & 0.9L formats, investing in a total of 4,740,000 packages during 2021, confirming furthermore our commitment to an increasingly sustainable economy.
"Our path toward 100% recyclable packaging has already started and now we are advancing in performing through recycled plastics, which enables the circulation from bottle to bottle and return to a new bottle.  Thus, we are contributing to the plastic bottle recycling model, offering recyclable PET's and operating through recycled PET's, with direct beneficiaries: consumers and the local economy ", adds Luca Busi – President of Coca-Cola Bottling Shqipëria.
This innovation, in the production with rPET bottles, is part of the long-term strategy of "The Coca-Cola Company", under the project "World Without Waste", offering lots of ambitious and sustainable projects, progressively in Albania as well.
CCBS in addition to the increasing use of recycled plastic in packaging, has been paying attention to environmental issues since 2010, including but not limited to:
Water Purification System – through building the largest system of plants in Albania, cleaning discharged water, and using it in nature for watering trees, etc., – an investment of 1 million Euros.
Planting trees in Tirana Artificial Lake area or investing in other recreational areas.
Contributes to the cleaning of coastal areas in Albania, by engaging state institutions and other environmental organizations.
Introducing the concept of CO2 reduction using 100% electric vehicles, expanding in Tirana, Durres and Kavaja, for a total of 76 electric vehicles that is equal to yearly 242 CO2 reduction or the yearly contribution of over 18,000 trees.
Encouraging and supporting institutions to build a proper infrastructure for recharge stations., through investing in 9 recharge stations in Tirana, Durres and Kavaja, aiming electric vehicles users' growth, as further contribution of CO2 reduction from urban gas emissions.
Furthermore, will soon introduce the giant investment of photovoltaic panels, for additional CO2 reduction in the atmosphere.
Following good practices and in support of the recycling process, Coca-Cola in Albania also presents the new dynamic bottle of the Sprite product, which announces a departure from its historic green packaging in transparent recyclable & recycled PET, to a "Clear" bottle.
The packaging of the products in transparent PET, offers easier recycling to return to a new bottle. This change is an additional investment, under the international project "World Without Waste".
While protecting the environment, we produce products considering all our consumers base needs, among them also:  Zero sugar products, or non-carbonated drinks, waters with different vitamins and flavors.
Happily, wellbeing raises together with a series of technological solutions that facilitate the production process of quality products, despite the high investment but in protection of our environment and consequently the health, tourism, economy, and lives of all Albanian citizens.